International Symposium – Announcement and Call for Papers and Posters / Simposio internacional – Anuncio y llamada a communicaciones
Living Matter/ La Materia Viva
The Preservation of Biological Materials Used in Contemporary Art
MUAC and ENCRyM, Mexico City 
June 3-4, 2019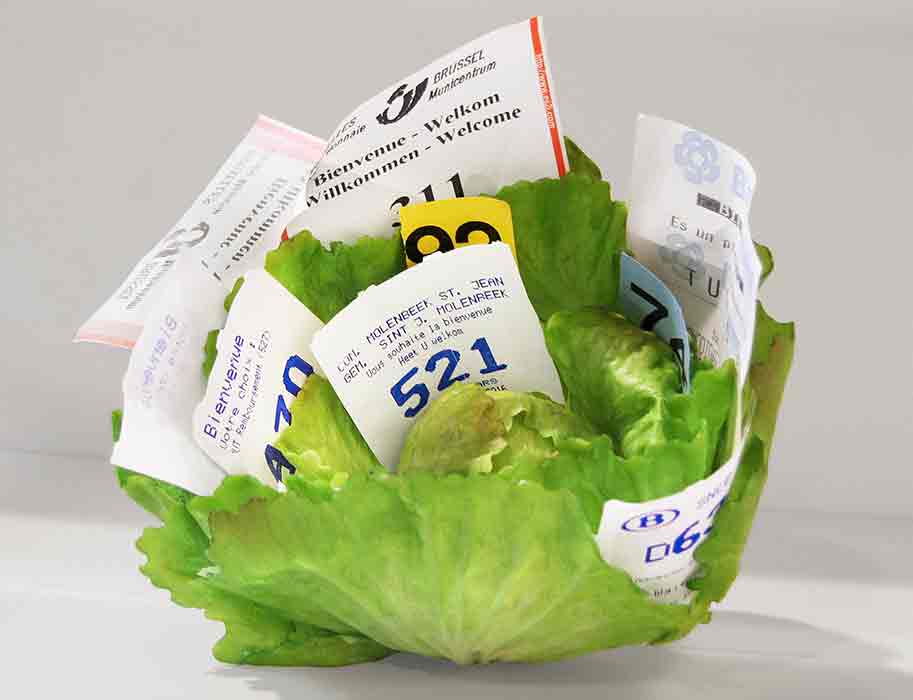 Waiting stub lettuce, 2004. Gabriel Kuri. Courtesy of the artist and Franco Noero Gallery, Turin. ©Gabriel Kuri 
Organized by the Getty Conservation Institute, the Museo Universitario Arte Contemporaneo (MUAC) of the Universidad Nacional Autonoma Mexico, and ENCRyM (Escuela Nacional de Conservación, Restauración y Museografía "Manuel del Castillo Negrete") of the National Institute of Anthropology and History.
Countless artists from Marcel Duchamps, Dieter Roth, Andy Warhol, Piero Manzoni to Ed Ruscha, Anya Gallaccio, Teresa Margolles, Adrian Villar Rojas, Marta Palau and Damien Hirst have used biological materials (food, bodily fluids, plant material, etc.) in their art.
Because these materials are not only prone to rapid decay but often to putrefaction processes leading to complete disappearance, biological materials used in art pose very specific conservation problems.
Solutions to these problems can be of different natures, including: altering drastically the material's behavior by embedding it in resin or inserting it in modified atmospheres—perhaps at the expense of some of the qualities of the work or periodically replacing parts or the whole of the work—but clear rules for the replacement have then to be established. In some cases, a work is meant to disappear, so the very act of preservation goes against the work's intended nature. Yet another challenge is the display of these works in a museum environment might also present a preservation risk to other works of art in the same space.
As often is the case, there is no fit-for-all approach.
Symposium
Living Matter/ La Materia Viva will discuss the broad implications and challenges (conceptual, ethical, and practical) associated with collecting, displaying, and preserving contemporary works that include biological materials. It will explore how the initial intention for the work might conflict with museum policies and the ways this might impact both the nature and lifespan of the work, present a range of possible solutions through case studies, and give an overview of current thinking and practices on this topic.
The two-day event includes invited keynote lectures and paper submissions as well as panel discussions, visits, and an accompanying exhibition. The symposium languages will be English and Spanish.
Registration
Detailed program and registration information will be available in January 2019.
Call for Abstract Submissions for Papers and Posters
Abstracts will be accepted in English and Spanish; however the symposium proceedings will be English language.
Papers dealing with philosophical and ethical considerations, historical perspectives, collaborations with artists and across disciplines, case studies, updates on research projects, documentation strategies, as well as papers presenting innovative solutions and approaches are welcomed.
Abstracts should include:
author's name and affiliation
full title
350 words summary
author contact details
Please submit abstracts to livingmatter@getty.edu. Deadline for submission: November 15, 2018.
For more information please contact: livingmatter@getty.edu
Living Matter / La material viva
Preservación de materiales biológicos usados en arte contemporáneo 
MUAC and ENCRyM, Mexico DF 
Junio 3-4, 2019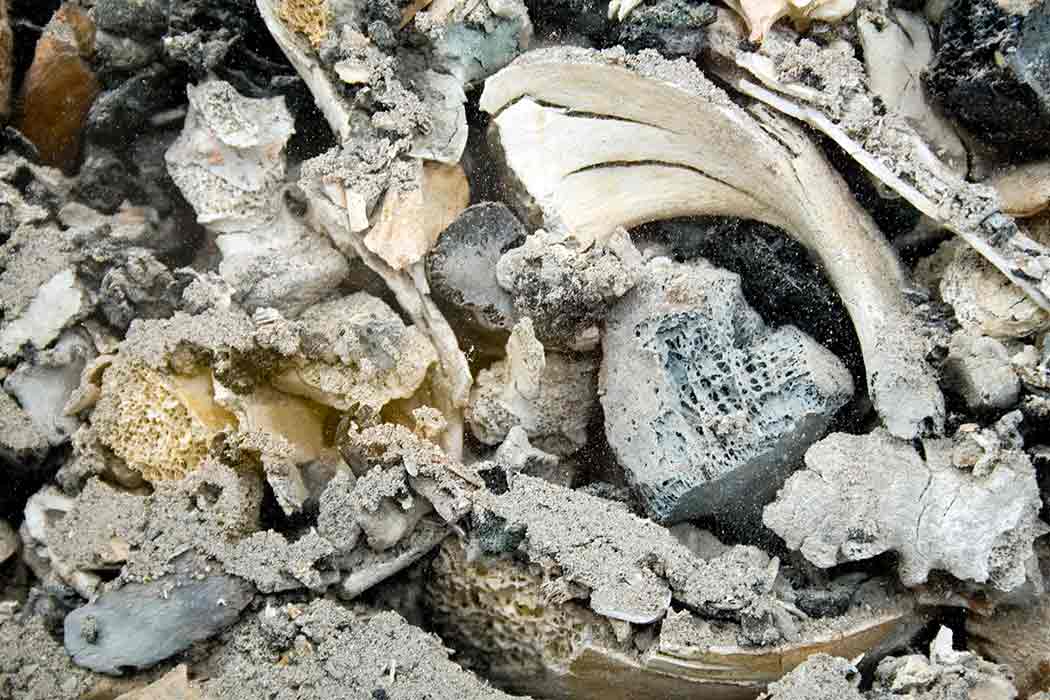 Mineralización estéril, 1997. Metal, glass and human ashes. Grupo SEMEFO. Colelction Museo Universitario Arte Contemporáneo, Adquisition

Organizado por: The Getty Conservation Institute (GCI), Museo Universitario Arte Contemporáneo (MUAC) de la Universidad Nacional Autónoma de México (UNAM) y la Escuela Nacional de Conservación, Restauración y Museografía "Manuel del Castillo Negrete" (ENCRyM) del Instituto Nacional de Antropología e Historia (INAH), México.
Sedes: MUAC y ENCRyM,
Ciudad de México

Innumerables artistas, como Marcel Duchamp, Andy Warhol, Piero Manzoni hasta Ed Ruscha, Anya Gallaccio, Teresa Margolles, Adrian Villar, Marta Palau y Damien Hirst han usado materiales biológicos (comida, fluidos corporales, material vegeral) en sus obras.
Debido a que estos materiales no solo son propensos a la descomposición rápida, sino también a procesos de putrefacción que pueden llevar a la desaparición completa, los materiales biológicos utilizados en el arte plantean problemas de conservación muy específicos.
Las soluciones a esta problemática pueden ser de naturaleza diferente: alterar drásticamente el comportamiento del material embebiéndolo en resina o insertándolo en atmósferas modificadas, quizás a expensas de algunas de las cualidades de la obra; o reemplazar periódicamente partes o toda la obra es otra posibilidad, pero se deben establecer guías claras para el reemplazo. Como pasa a menudo no hay una solución absoluta para todos los casos. Otro desafío más es que la exhibición de estas obras en un ambiente de museo también podría representar un riesgo para la preservación de otras obras de arte en el mismo espacio.

Simposio internacional
Living Matter / La material viva discutirá algunas implicaciones y desafíos (conceptuales, éticos y prácticos) asociados con la exhibición, colección y preservación de obras contemporáneas que incluyen materiales biológicos. Se explorará cómo la intención inicial de la obra podría entrar en conflicto con las políticas del museo y cómo eso podría afectar tanto la naturaleza como la duración de la obra. Se presentará una gama de posibles soluciones a través de estudios de casos; y dar una visión general de las ideas y prácticas actuales sobre este tema.
Este evento de dos días tiene una convocatoria abierta a recibir propuestas de presentaciones de países de habla hispana y de otros países en general, también incluye ponencias magistrales por invitación, paneles de discusión, visitas guiadas y una exhibición. Los idiomas oficiales para el simposio son Español e Inglés.

Registro
El programa detallado del evento estará disponible en Enero 2019

Convocatoria abierta para presentaciones o pósters
Se recibirán resúmenes o abstracts en idioma Español o Inglés.
Sin embargo las actas o memorias del evento serán en idioma Inglés.
Se invita a escribir trabajos que aborden consideraciones filosóficas y éticas, perspectivas históricas, colaboraciones con artistas y otras disciplinas, casos de estudio, actualizaciones de proyectos de investigación, estrategias de documentación, así como documentos que presenten soluciones y enfoques innovadores.

Resúmenes o abtracts deben incluir:
• Nombre del autor y afiliación
• Título completo
• Resumen o abtract de no más de 350 palabras
• Detalles de contacto del autor
Por favor envíe sus resúmenes o abstracts a: livingmatter@getty.edu
Fecha límite para la convocatoria abierta: 15 de noviembre de 2018.
Para obtener más información, póngase en contacto con: livingmatter@getty.edu